Poster Printing
Large format poster printing using water-based HP latex inks that obtain outdoor durability and versatility across all common media types used in sign and display applications, together with high-quality, odorless prints, low maintenance, and health advantages.

Prints come out completely dry, ready for finishing and delivery.

A simple A2/A1 poster can be printed and ready using same day service!

For any traditional sized poster, pull up or canvas banner upto 1200mm width, the HP Latex 310 is ideal and can be used outdoors for 3 years (5 years if laminated).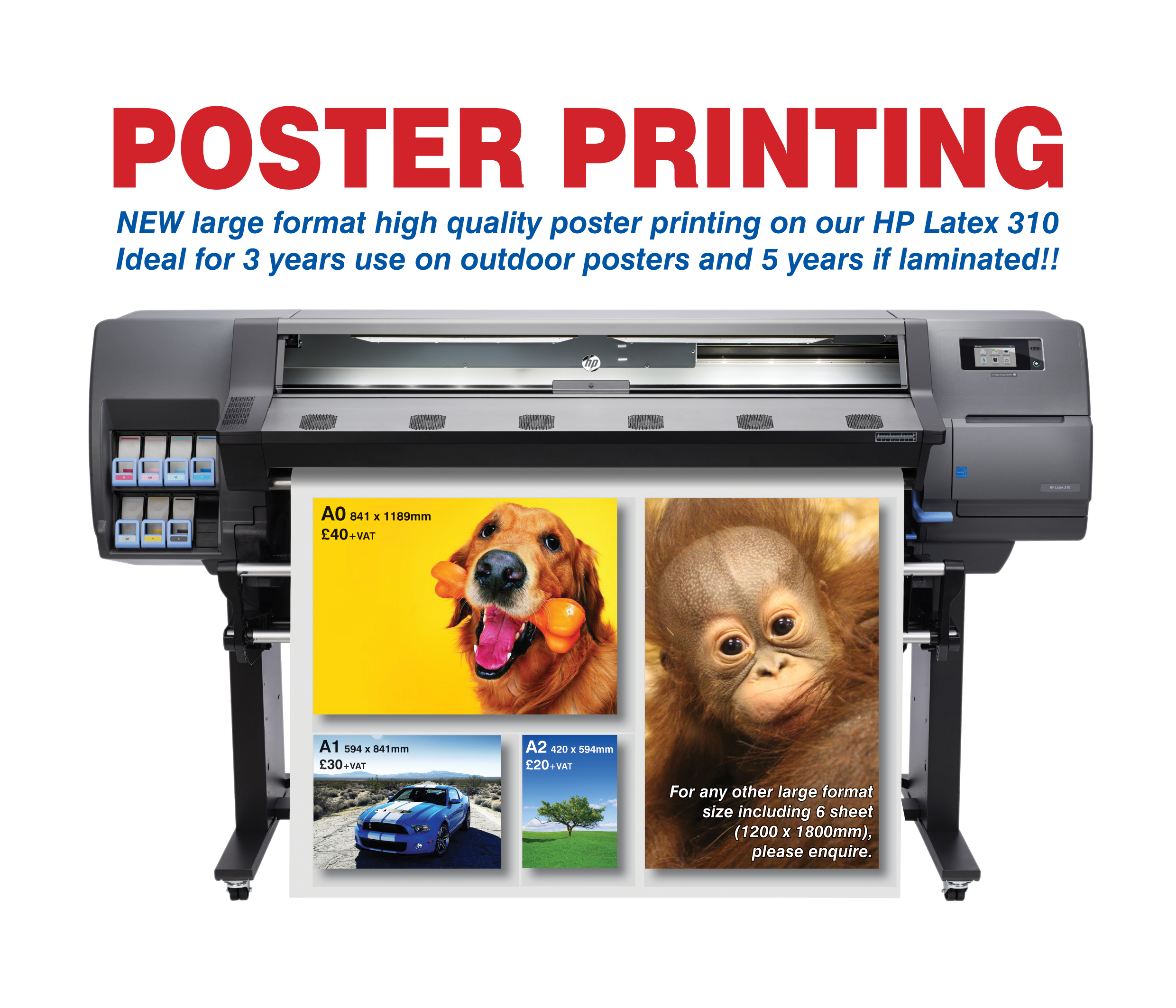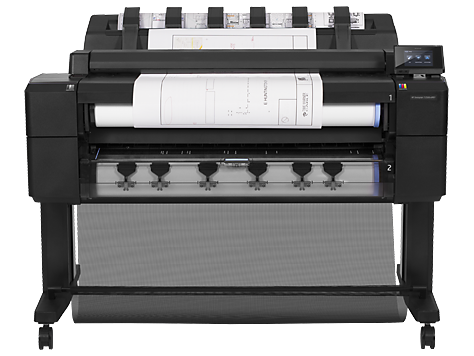 Plan Printing
Have your artichect plans printed (Up to A0) with our HP Designjet T2500 plan printer.

We can copy using your original plans or from digital file using the maximum resolution of 1200 dpi, in either colour or black and white, the ability to reduce or enlarge and scan to electronic copy.
Waterless Printing
Environmental Breakthroughs

Clean air. Clean, adequate water supply. Forest conservation. Safe working conditions.
These environmental goals are universal, though the degree of concern may vary from country to country. In some parts of the world, the printing industry has been specifically cited for its contribution to the degrading environment.

Waterless printers worldwide are winning national and international environmental awards in recognition of their environmental standards, and many have received ISO 14001 certification for their Environmental Management programs.
VOC-less Printing Milestone

Many printers have been drawn to waterless printing because it eliminates dampening-related volatile organic compounds (VOCs) from the printing process. Some VOCs have been linked to the deterioration of the earth's protective ozone layer and, consequently, to global warming. Now, with the release of water-washable inks, the waterless pressroom can be virtually VOC-free.

This revolutionary ink technology, eliminates the need for solvent-based press and blanket wash solutions, which typically account for a large portion of a printer's VOC output. The press wash solution is 93 percent water and 7 percent mild surfactant (soap), with the ultimate goal of a 100 percent water-washable product. The environmental benefits of water-washable inks are far reaching.

Water Conservation
In 1995, 92 percent of the global population had a sufficient supply of water. If the world continues to consume water at its current rate, it is projected that water sufficiency in 2050 will be only 58 percent. It is further predicted that nations will go to war over water supplies within the next two decades.

Waterless printers have recorded dramatic conservation of our water resources. A printer in Switzerland, operating one of the world's first waterless web presses, eliminated the use of approximately 250,000 litres (about 66,000 gallons) of water in one year. That water would normally have come from a nearby lake, which is a source of drinking water for tens of thousands of people.

Forest Conservation
It takes 17 pulpwood market-sized trees to make a ton (907 kg) of paper. Barely enough to provide a daily newspaper to 20 people for a year.

Besides depleting our supply of virgin fibres for papermaking, deforestation destroys the natural habitats of countless plants and animals, one of which may have otherwise provided a cure for cancer.

Because presses running waterless come up to colour and register so much faster, and hold those consistently throughout the press run, paper savings of 30 percent to 40 percent have been reported. In addition to saving trees, that also represents a significant manufacturing and paper cost savings.
46 Karat Press
The 46 Karat can easily produce line screens up to 200 lpi.
The Karat 46 press is waterless, which means the problems associated with ink water balance are eliminated, a larger colour solid can be printed with better colour saturation.
Superior image quality and more vibrant colours are achieved. Because the chemistry-free plates are imaged directly on press in precise register, make ready times of ten minutes (1 hour on any normal litho press!) allow us to complete high quality jobs in quick time, time and time again..!
The 46 Karat press offers an even better service and will bring the impact of full colour printing to even more of our customers. The 46 Karat is the most advanced digital offset press available today and is ideal for short run colour print work as well as for the longer runs. This means that colour printing is now a cost effective option for almost all jobs.
Run your next four-colour digital offset job on our Direct Imaging (DI®) press, and enjoy superior quality then you would ever hope for. This remarkable system has 5 major assets for producing your next job :-
FAST! colour printing from your digital file in hours
ECONOMICAL! Superb for short and medium runs of 100 to 20,000
GENUINE! Highest quality digital offset printing available anywhere
RELIABLE! Accurate, consistent, repeatable colour reproduction
ENVIRONMENTALLY FRIENDLY! Waterless process, no chemicals or heavy metals
Key Benefits of Waterless Printing:
Consistent Colour: Eliminate the vagaries of the water system and you get more consistent colour throughout your job
Better colour Saturation: Four-colour process ink densities have averaged 20% higher than normal standards. A benefit existing customers love
Low Dot Gain, More Detail: The inherent low dot gain of waterless means higher screen rulings. In simple terms.... much better detail. Waterless works well, regardless of the screen rulings. Even if we run 175 line screens, you will still get a high quality product
Better for the Planet: The reduction in dampening usage and paper waste are strong benefits that are now beginning to make themselves felt among those concerned with environmental issues.
Litho Service
The Litho Printing Service that we offer. Some of the printing services that we can assist you with are;
Business Cards
Compliment Slips
Letter Heads
Invoice Pads
Quotation Pads
Restaurant Menus
Tickets & Promos
Advertising & Leaflets
To name but a few